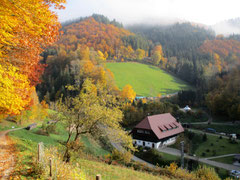 This is a picture of our "hotel", the Abrahamshof in Ippichental near Wolfach.
Rock Climbing
We went climbing up a massive rock. The weather was really nice and we had lots of fun. We did a back up for our classmates. When the others were climbing, we played games. It was a great day.
GPS-Tour
One day some of us were abandoned by car and we had to find our way  back to the house only with GPS.
We started with walking into a forest. In the forest we saw lots of mushrooms, animals and other pretty things.
After about three hours we arrived at our place. It was really funny.
Fire breathing
The fire breathing was really cool because the flames were really big and beautiful. First we had to take something like flour in our mouth. Then we breathed and the flames went into all directions.
Indoor games and shows
We played table football with the teachers and the trainers. Some kids played table tennis. On Thusday Amelie' Johanna' Martina and Laura presented a dance show with the song: "für Elise". On Monday evening we played the game "Werewolf". It was very nice.
Bedtime stories
Each night our teachers read very exciting stories about ghosts. The stories were very scary and crazy. One time we read the stories outside at the fire. After that we had to go to bed.